Post by EtomicB on Oct 2, 2017 21:43:39 GMT -5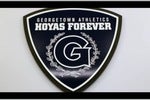 I don't get this all signs are pointing to A&M nonsense. I don't think signs are pointing anywhere. I don't have a clue where he is going to commit to and neither does anybody on 247. If anything, Leblanc has been very quiet only making 2 announcements, that he's no longer considering first Arkansas and 2nd time he spoke with the press was to remove hometown LSU from consideration. I wish more kids would handle their recruiting like he has. I guarantee both Arkansas and LSU appreciate his honesty as he could have kept both programs on the hook. Instead by making it known, it allows them to move on to other kids.
Things aren't always what you might think they are...
The Texas AM highlights are of freshman RB Jacob Kibodi who is from Baton Rouge, LA and is friends with Leblanc.
The fact that he has friends @ A&M is a sign imo..
I read an article on the 247 yesterday where he said A&M wants him to come in & play the 4 but develop as a 3 over time.. He also said PE wants him to come to Gtown and start @ the 3 right away..
Which scenario sounds more realistic for him?